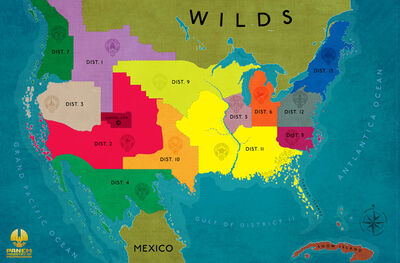 Panem
is a nation established during an unknown time period in a post-apocalyptic world. It is situated primarily on the western side of North America, and the
Capitol
is located in an area formerly known as the Rocky Mountains.
Panem was run by a single-party dictatorship that was led by President Snow before the rebellion. It is portrayed in the trilogy to be the dominant society in North America, and no other nations or civilized societies beyond Panem have been mentioned, so it is unknown if any exist at all.
The name Panem derives from the Latin phrase panem et circenses, which literally translates into 'bread and circuses'. The phrase itself is used to describe entertainment used to distract public attention from more important matters. Furthermore, by the government providing ample food and entertainment, the citizens would give up their political rights. In Panem, the rules were harshly enforced. After The Dark Days, a sadistic, annual event known as The Hunger Games was established.